Address
KAWABE SHINJUKU-GYOENMAE BLDG. 8F, 4-16-3 Yotsuya Shinjuku-ku Tokyo 160-0004
TEL
03-5367-1351
FAX
03-5367-1353
Map
Ariga International Patent Office is a 7 minute walk from the Tokyo Metro Yotsuya-sanchome Station (Exit #2) or an 8 minute walk from the Tokyo Metro Shinjuku-gyoenmae Station (Exit #2).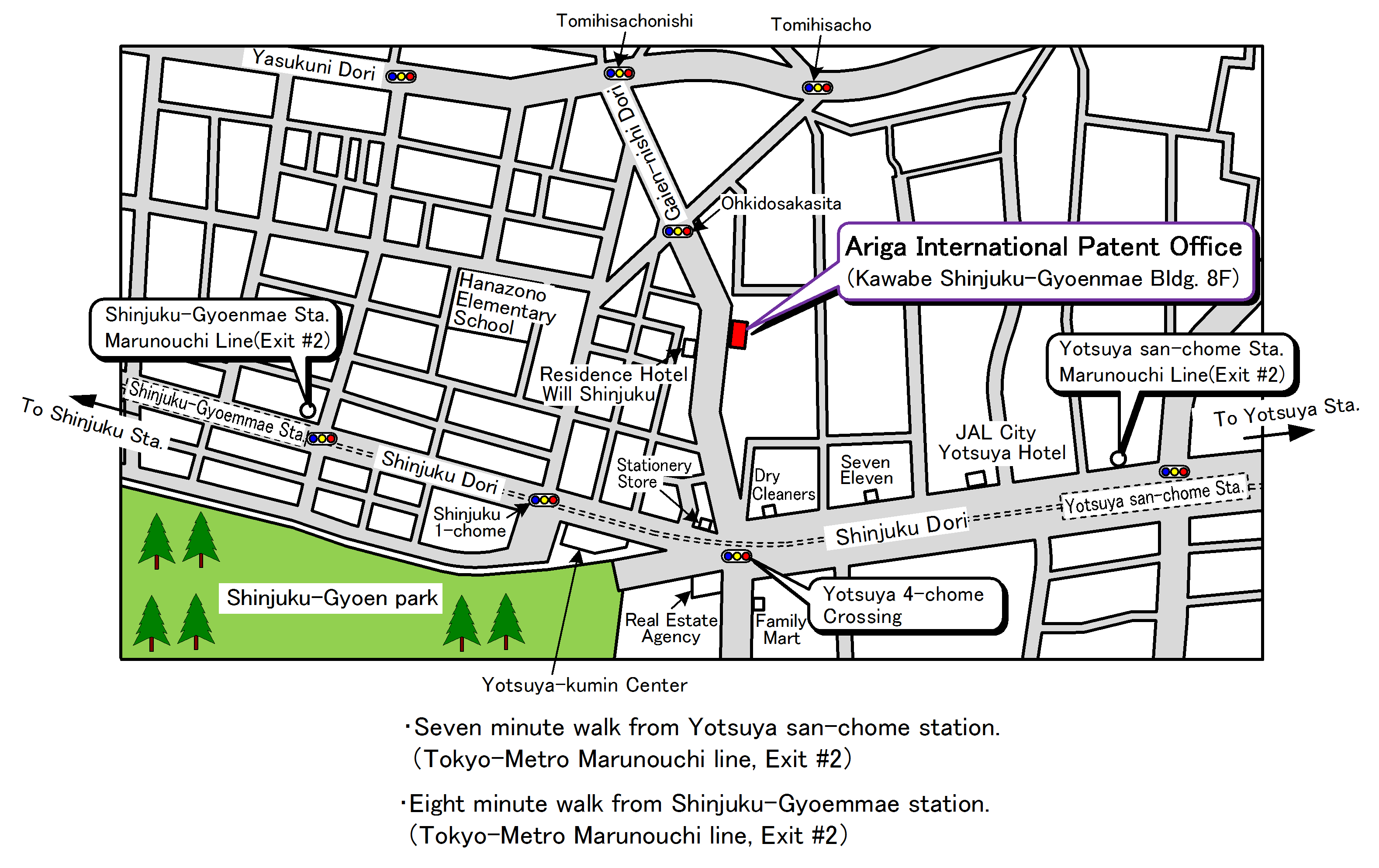 Useful Links
Patent & IP Resources
Japanese IP Organizations
Foreign IP Organizations
Patent Offices
---
Translations of Japanese Laws Relating to Intellectual Property*
*While great care and effort has been taken in order to assure that the translations of these laws from Japanese into English are accurate, it is likely that some inconsistencies do exist. Should any disputes arise during prosecution relating to these acts, it has been the established protocol of the JPO to rely on the original Japanese text to resolve such disputes.
Japanese National Holidays
Ariga International Patent Office, as well as the Japan Patent Office (JPO) will be closed in observance of the following Japanese holidays. We will respond to your inquiries and correspondence the following working day.
| | |
| --- | --- |
| January 11, 2021 | Coming-of-age Day |
| February 11, 2021 | National Foundation Day |
| February 23, 2021 | Emperor's Birthday |
| March 20, 2021 | Vernal Equinox Day |
| April 29, 2021 | Shōwa Day |
| May 3, 2021 | Constitution Memorial Day |
| May 4, 2021 | Greenery Day |
| May 5, 2021 | Children's Day |
| July 19, 2021 | Marine Day |
| August 11, 2021 | Mountain Day |
| September 20, 2021 | Respect for the Aged Day |
| September 23, 2021 | Autumnal Equinox Day |
| October 11, 2021 | Sports Day |
| November 3, 2021 | Culture Day |
| November 23, 2021 | Labour Thanksgiving Day |